Unprecedented Times
Coaching Special for
Big-Idea Creatives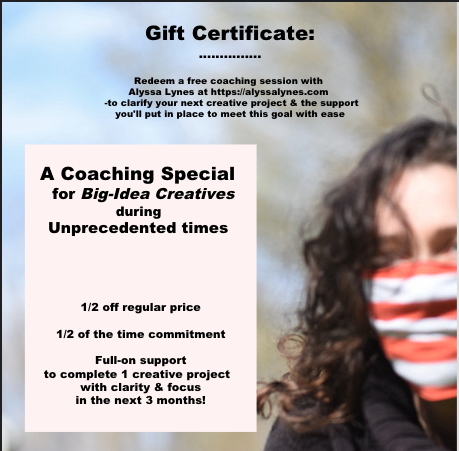 Getting pulled in many directions?
Have too many ideas?
Not sure where to start?
Want to look back at this time and see what you made happen?
Play full out with continuous support to: 
take action, move beyond obstacles & contribute your unique gifts with clarity and focus 
Coaching Special Details: 
1/2 off Regular Price
1/2 of the time commitment 
Full-on Support 
to complete 1 creative project 
with clarity & focus in the next three months:
As you move toward your creative goal many topics may be coming up for you and getting in your way?

Topics that you may bring to coaching include:
Stress, Overwhelm, Doubt 
Tame your "Monkey Mind" to enjoy more consistent ease


Productivity & Time management 
Approach new practical skills with compassion and curiosity 


Purpose & Career 
Clarify where you really want to go and how to get there 


Relationships
Create and cherish a life of connection that you enjoy showing up for 


Health and Well-being
Develop your lifelong relationship with your whole being and body   


Financial Success
Use money in alignment with your intentions and values
1/2 off - Package and Rates
My starting package is two 55 minute sessions per month, for 6 months.
I base my two-session-per-month fee on the following:
What will reflect the value you'll receive?
What will give you more than your money's worth?
What will honor a variety of situations?
What will allow my work and my family to flourish?
normal rate: $250/ month           Pandemic Time Rate: $125/month
normal rate:  $300/month           Pandemic Time Rate: $150/month
normal rate:  $350/month           Pandemic Time Rate: $175/month
Please choose the financial stretch that will support you to commit fully to this journey as well as not become a financial hardship. By paying at a higher level you help me be able to support a wider range of people coming from various economic situations. I am devoted to support people who are invested in developing themselves through working together. I have at least one client reserved for scholarship so let's talk regardless of your current situation.
I am invested in supporting a diverse group of clients. I have coached people from the following categories and am open to more: LGBTQ, POC, Genderqueer, Neurodivergent, and Differently Abled. I invite you to provide me with feedback when you see possibilities for my practice to become more inclusive.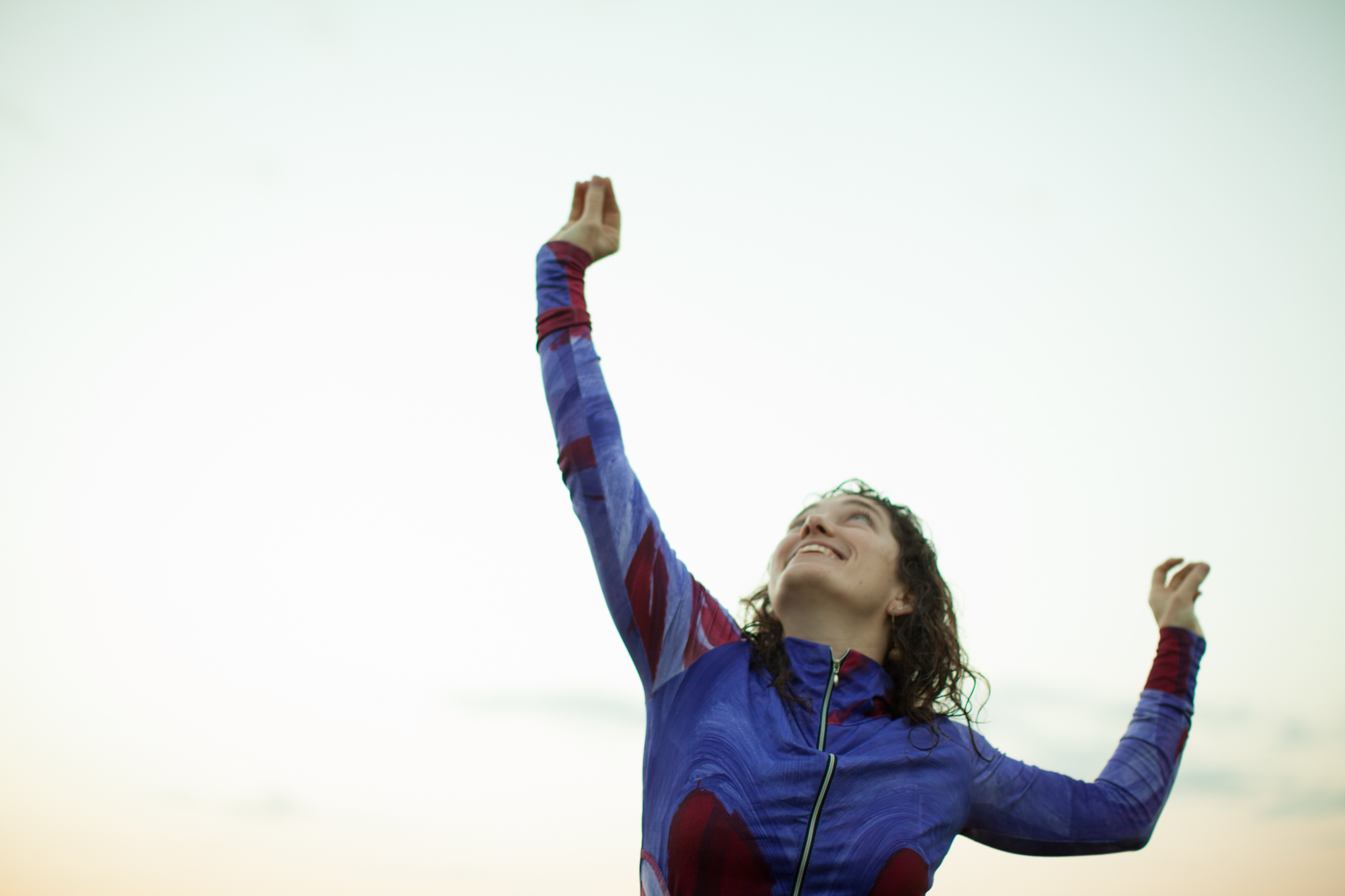 I'm a professionally-trained  and certified coach through the Academy for Coaching Excellence (ACE), an accredited training program of the International Coach Federation (ICF).
The coaching model from ACE combines the latest in neuroscience with powerful principals from ancient wisdom teachings. This framework is both pragmatic and transformational.
I use this method to support creatives to move beyond what has been clouding the path in order to take consistent action towards what has the most meaning for them to contribute next.
We'll have to chat to feel our chemistry but in the meantime, here's a little about me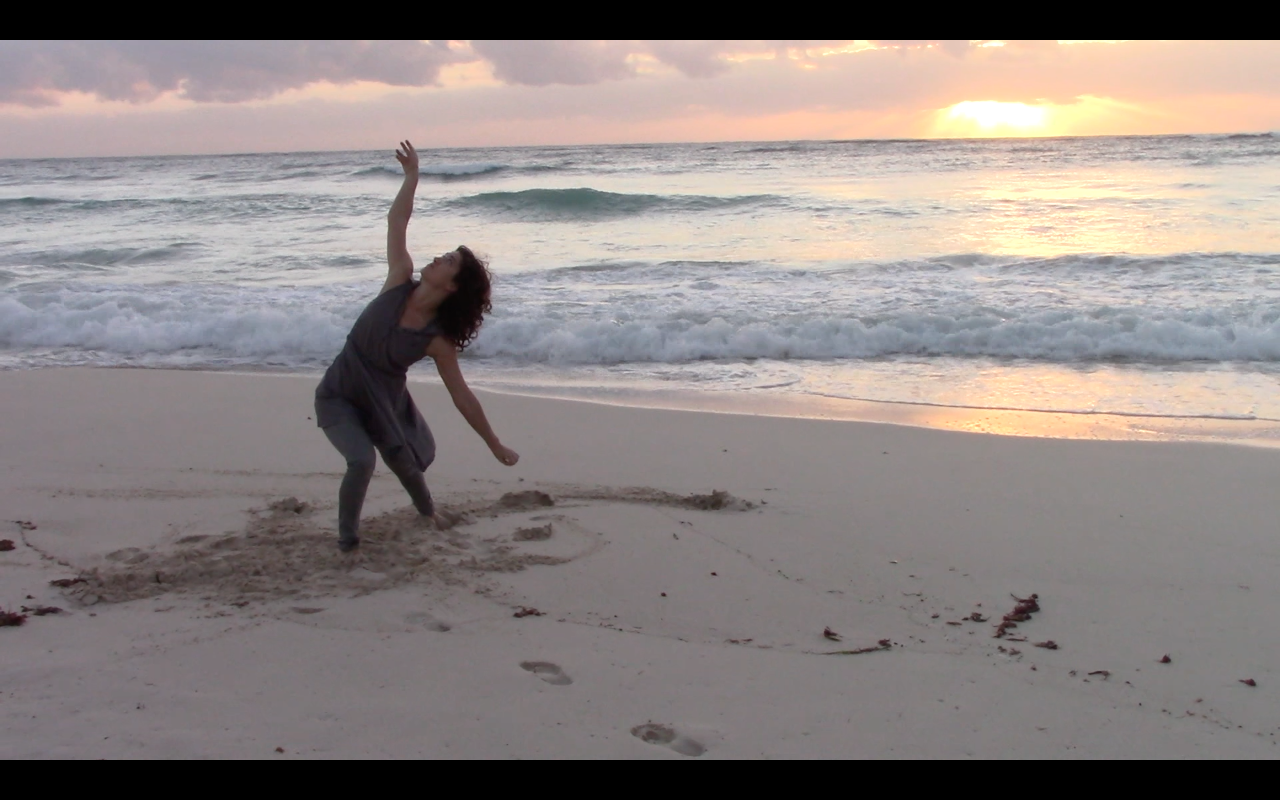 I have always been interested in supporting people to share their unique creative gifts and fascinated by how we learn. I've explored this in multiple careers, in many collaborative and intimate relationships, while living in one place, and while traveling nomadically.
I have my Masters Degree in Education with a specialty in bilingual (English/Spanish) and worked as a teacher in NYC trying out all the different school system styles.
I have been a professional dancer and choreographer in the US and Europe.
I co-directed the first anthropological documentary on Contact Improvisation, Five Ways In. I toured the film to over 16 countries and facilitated discussions in which individuals, inspired by the film, investigated their personal questions within community.
You can find the article in Contact Quarterly online titled: Awareness, Engagement & Resilience here
You can find my writings on: Long distance relationships, Uncoupling: Ending a partnership, Polyamory, and Finding your partner in the second edition of the book: Getting along: skills for life-long love here.
I still travel and teach dance and community visioning workshops in North America a few times a year.
As a life coach, I empower big-dream creatives to take action, move beyond obstacles and contribute their unique gifts with clarity and focus. I love to celebrate the life shifts and projects they create and share with others. I also support non-monogamous folk to show up to their many relationships in ways they are proud of.
Through working with Alyssa, I feel more confident to take small, but very important steps in my life. Alyssa has helped me connect to and clarify my deeply held values so that I could take action towards them, with a whole lot more ease and fun than I've ever known how!! I moved the needle as a facilitator, how I show up for others, my own projects, and mostly in the way that I hear my own thoughts. She's helped me interrupt unsupportive ways of thinking with a kind of gentle encouragement that I've learned to bring to myself.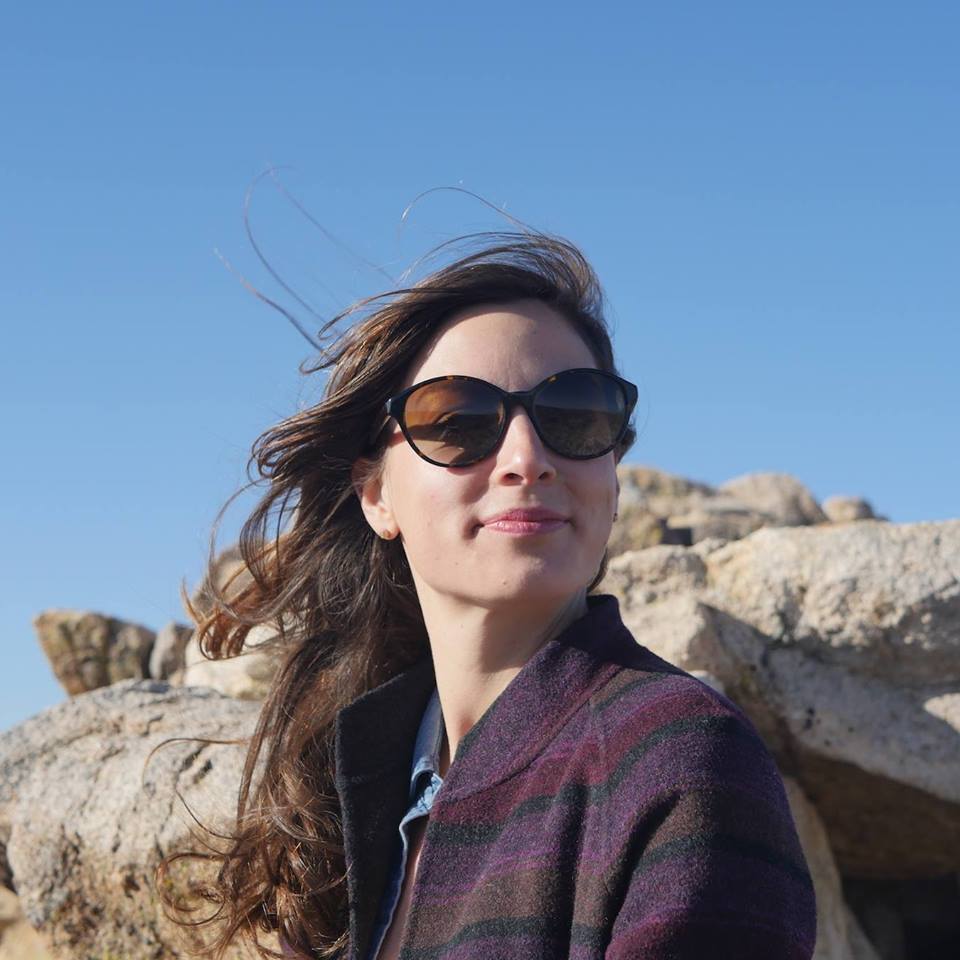 I was wary of this process, not sure how it would take hold for me. Through working with Alyssa, I feel it kind of just secretly infiltrated my perspective of positivity-recognizing and dismantling the negative talk in my head.  By setting meaningful goals and building the ability to zero in on the goals and meaningful opportunities important to me, I now feel a plethora of community impact and have exciting opportunities important to me in line with my goals.
Through the support of Alyssa's coaching, I am clearer in my thoughts. My thoughts are more positive, and I can get to the heart of the issue a lot quicker without going into story.  I now have clearer life direction, and I also am more easily able to hone into my intuition on various issues a lot faster. I feel a lot more connected to life.
I feel responsible to myself in a new way. Alyssa has been my partner in helping me to trust me, and have something to show for it.
I started working with Alyssa because I was experiencing a lot of shift in my life. I was considering a career change, and was also re-prioritizing my personal life. Alyssa really used the framework of coaching to help me investigate what was motivating my desire for change, and identifying what obstacles and fears stood in the way. I feel more prepared to make my career change, and also more committed to leading a life that better reflects my values and priorities."
Alyssa combined a focus on action-oriented steps with the time and space to explore what was behind those actions in a way that was very helpful to me.
Before working with Alyssa, I was struggling with identifying my priorities, such as whether to go back to school, stick to a daily routine, or develop better relationships. Coaching helped me identify my priorities by helping me notice from week to week what was stopping me from advancing in my goals. From there we would put on a sharper lens to help identify what my true goals actually were and adjust accordingly.
What value will I take away?
My starting package is especially designed for this time when so much is in flux with the pandemic and how humans and institutions are responding to the situations.    This package is a 3 month package that includes 2 sessions a month (a total of 6 sessions).   Time enough for meaningful results  on one goal and a commitment to make it happen. Renewing after is always possible.
Practically speaking, I offer a simple, easy, and straight-forward process so we can focus our on what's most meaningful to you to accomplish in these three months.
A 60 minute call in which you get clear on your goals.
If we decide we're a fit, we'll sign a digital contract and get started! Here is my sample contract. We will adapt this contract for this special offer.
Coaching Sessions by Phone or Zoom
You can choose to meet with me either on the phone or by Zoom. With the Zoom platform you choose to to use video or audio from the convenience of where you are.
Ongoing Text and Email Support
Between sessions you can contact me with celebrations, updates and questions.  I love to hear from you.  
Celebration and Next Steps Session
Prior to your 6th session, we have a free 30 minute phone call to recognize your accomplishments and discuss whether renewing is the next support to take you to the next level that you are playing for.
Therapy is about healing; coaching is about action.
Consulting prescribes expertise-based solutions; coaching puts your own wisdom into action.
Mentoring guides you based on a mentor's wisdom; coaching guides you according to your own values and intentions.
Training follows a set curriculum toward set objectives; coaching reveals your own objectives and a path to fulfill them.
Interested? Have a question?
Great. Let's schedule a chat.
I'll answer your questions and we'll see if this is a fit right now.
You are thinking of a friend? Wonderful.
Please send them here.
Let them know that this kind of support is available and happening.