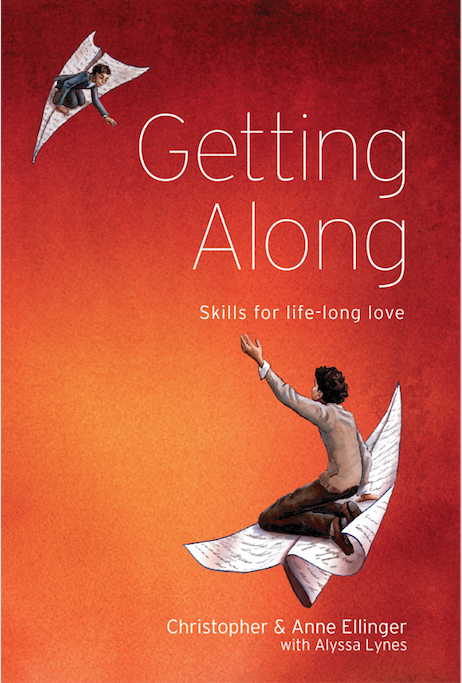 We all want to get along…but how? The skills of getting along are among the most important you can develop in life. In this second edition to this guide you'll find potent tools for sustaining and deepening relationships, whether you're single or coupled or poly… straight or gay…happily in love or hitting a rough patch… or simply wishing to get along better with friends, family and colleagues.
Inside find tools to help you:
• Step out of upsets
• Feel more fully appreciated and understood
• Make joint decisions and solve problems with ease
• Tackle "hot topics" for couples:sexuality, money, parenting, working together, and aging
• This second edition includes a new chapter on "Out-of-the-box" loving: long-distance love, uncoupling, ethical polyamory, finding your partner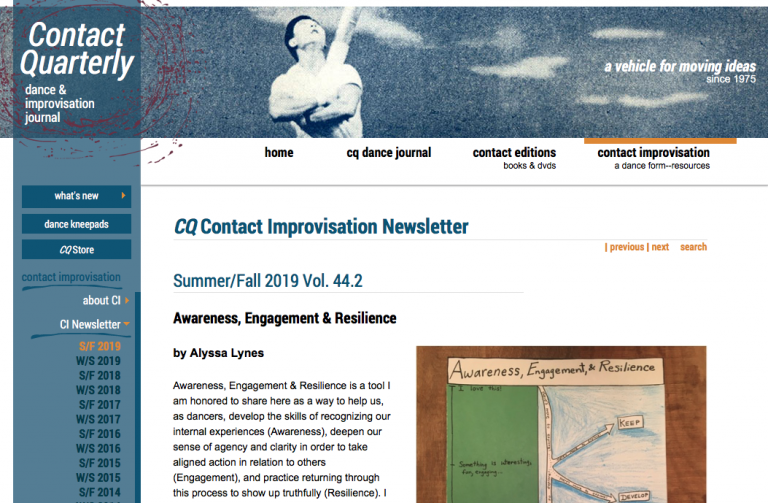 Through this Contact Quarterly article, Alyssa Lynes shares from her extensive teaching experience a powerful tool she developed, titled "Awareness, Engagement & Resilience". Alyssa uses this tool to support individuals and communities: • to identify their individual experiences and desires • to practice making clear and creative dance choices • to communicate skillfully about their own experiences with others in moments of celebration and discomfort Through anecdotes and descriptions from workshop tours, Alyssa reveals how "A,E, & R" can be used to support movers to create and sustain more resilient inclusive dance spaces.
Alyssa Co-directed the film "Five Ways In"
The Anthropological Documentary filmed at the International Contact Improvisation Festival Freiburg 2012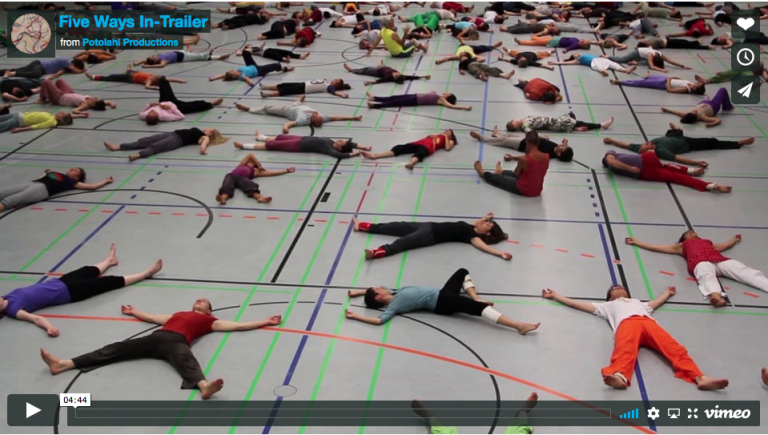 If you are interested to purchase a copy for a donation contact Alyssa at infofivewaysin@gmail.com
Feel free to show it to others and write your responses on our blog:
www.researchingcontactimprovisation.com
Film Description:
Contact Improvisation first developed in the United States in the 1970s as a movement experiment that challenged dancers to respond instinctively to bodily collisions. Four decades later, the dance form continues to be investigated openly by people all over the world. This film follows the aspirations of five dancers as they navigate the joys and challenges of being with three hundred participants at the biggest Contact Improvisation festival in the world in the old German university town of Freiburg. Jashana, an American political activist and Raquel, a Brazilian volunteer at the festival, search for the political edge and community building potential of the form. Swedish biodynamic gardener, Johan and Israeli travelling teacher, Lior, share hopes for beautiful and challenging dances and new ways to teach the form. Camille from France had only recently discovered the form. He seeks the heart of Contact Improvisation out of his comfort zone of salsa and sports in the pursuit of sensitivity and weight sharing. During a week where being part of a temporary community and the intimacy and physicality of the form can challenge even experienced dancers, will the Freiburg Festival deliver the inspiration and insights they seek?